An exclusive countryside dream wedding venue near Lisbon!
Countryside venue for weddings near Lisbon, in the municipality of Mafra and 4 kilometers from Malveira, Casa de Reguengos (House of Reguengos) is situated in a totally forested area, being considered one of the best farms for weddings and events in Portugal.
Its surrounding is a magnificent landscape of several villages, exclusive to you!
Casa de Reguengos (House of Reguengos) has been organizing events since 2006. Throughout these years, it has been a constant concern to offer you an exquisite, modern and personalized service. We defend a complete service for your own comfort from the decoration and graphic work, to the animation itself.
All the preparation is carried out in our facilities by staff with higher education in hospitality.
We guarantee a commercial follow-up, from the first visit until the day of your event.
RECOMMENDATIONS AND PRIZES
In 2017, for the second consecutive year, we are recommended by Zankyou, as one of the best Wedding Venues in Portugal, we won the ZIWA AWARD 2017! Already in 2016 the Casa de Reguengos had been chosen one of the 14 most spectacular Quintas to marry in the region of Lisbon by the readers of the portal Zankyou.
Casa de Reguengos is recommended by the website Casamentos.pt and won the WEDDING AWARDS 2018, for the 3rd consecutive year.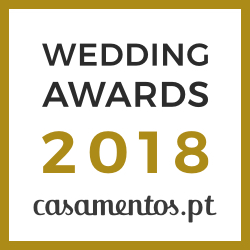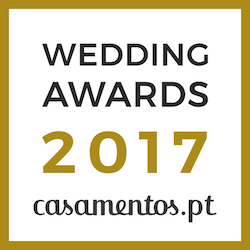 We are recommended by I Love Brides:
Come discover this new space. Book  your visit to Casa de Reguengos and come and meet us!